I had the immense pleasure of being invited to share several of my reimagined Hanukkah recipes on Trending with Emily Frances over at i24 News.
I've devoted a lot of space on this blog to celebrating Hanukkah, a holiday the celebrates yet another averted disaster for the Jewish people. It's always been one of my favorite holidays, especially given all of the fun involved in the celebration itself.
However, it's no surprise that the "Festival of Lights" is celebrated at the darkest time of the year. Rather than zeroing in on tragedy behind the holiday, we instead choose to spread light, both physically and spiritually. After all, the more you share a flame, the more you can illuminate.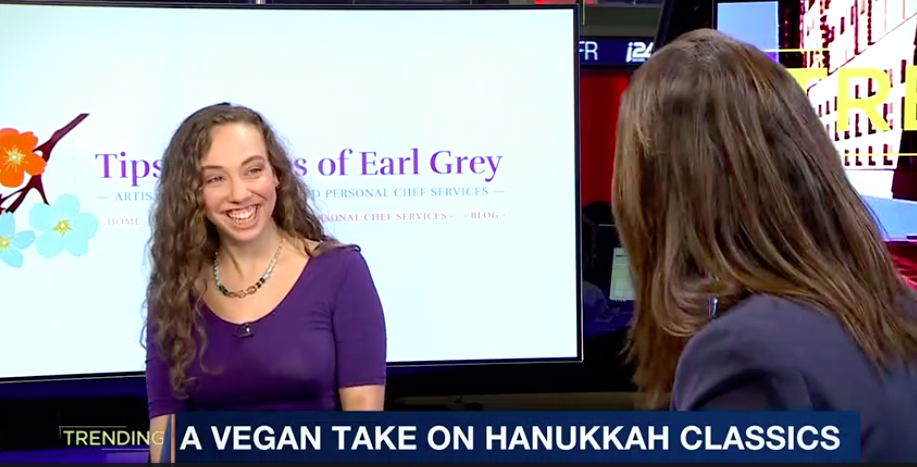 Even if you don't connect to the ritual candle lighting, it's hard to deny the joy that comes from a bounty of fried foods. Fried potatoes, filled doughnuts (or sufganiyot in Hebrew), Moroccan sfenj, what more could you ask for from a holiday, except that the menu be free of animal products. In case you were worried it isn't possible, here are a few of my go-to, vegan Hanukkah dishes.
So what was on the menu?
A Vegan Hanukkah Menu to Impress Your Guests
Rosemary flecked latkes with a fresh Spanish tomato dip
Caramelized leek and sweet potato latkes with woody sage and spinach pesto
Earl Grey custard stuffed sufganiyot, topped with an Earl Grey chocolate ganache
Lemon pistachio olive oil cake topped with a dairy-free, white chocolate ganache
Thanks again to Emily Frances and the i24 team for sharing this beautiful Hanukkah with me!