Ah kale. With your rise in popularity, you've often become the butt of many vegan jokes. But no matter what others may say about you, you're still one of my favorite greens to add to a salad. Hearty, but not too bitter, and with an outstanding ability to hold up under the weight of dressing, choosing a kale salad is often a great way to go when you're entertaining.
I originally developed this particular gem for a Rosh Hashanah menu. Around the world, Jewish communities have added a ritual revolving around symbolic foods to help usher in a happy and prosperous New Year. The chosen ingredients might seem a little random at first glance. Carrots, leeks, black-eyed peas, cabbage, what do all of these have in common?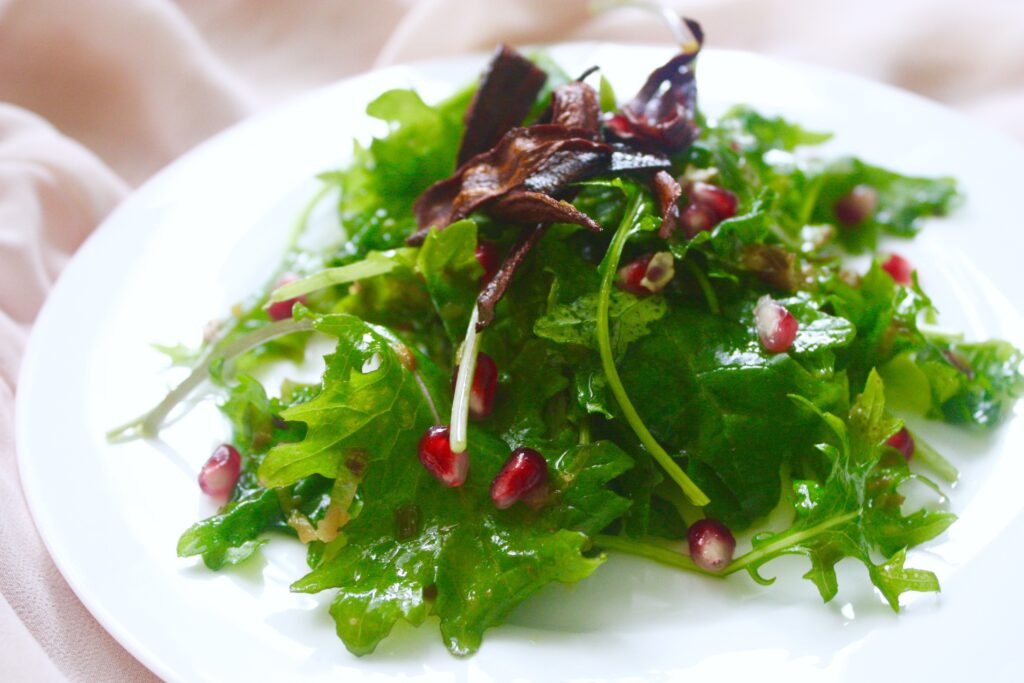 Ripe for the Blessing
The truth is that there isn't a thread linking each of these items to another, but that ancient Jewish communities found that in Hebrew or Aramaic, their names were often very similar to words they might use in a blessing. As it turns out, Jewish humor is utterly timeless.

These blessings weren't a part of my family tradition growing up, but they've become an adopted tradition since I moved to Israel. Rather than simply throwing these items on a plate and calling it a day, it's been much more fun to work them all into a full Rosh Hashanah menu.
In this salad, leeks and carrots, both the star of their own brachot (blessings), create a hearty and festive dish. The carrots take a savory soak in a bath of rich tamari and liquid smoke, before being dried into crispy, crunchy bacon strips. The leeks are caramelized and then mixed into a sweet vinaigrette, where they can permeate the whole salad. To top it all off, bright seasonal pomegranate is sprinkled over top, adding little nuggets of flavor to each bite.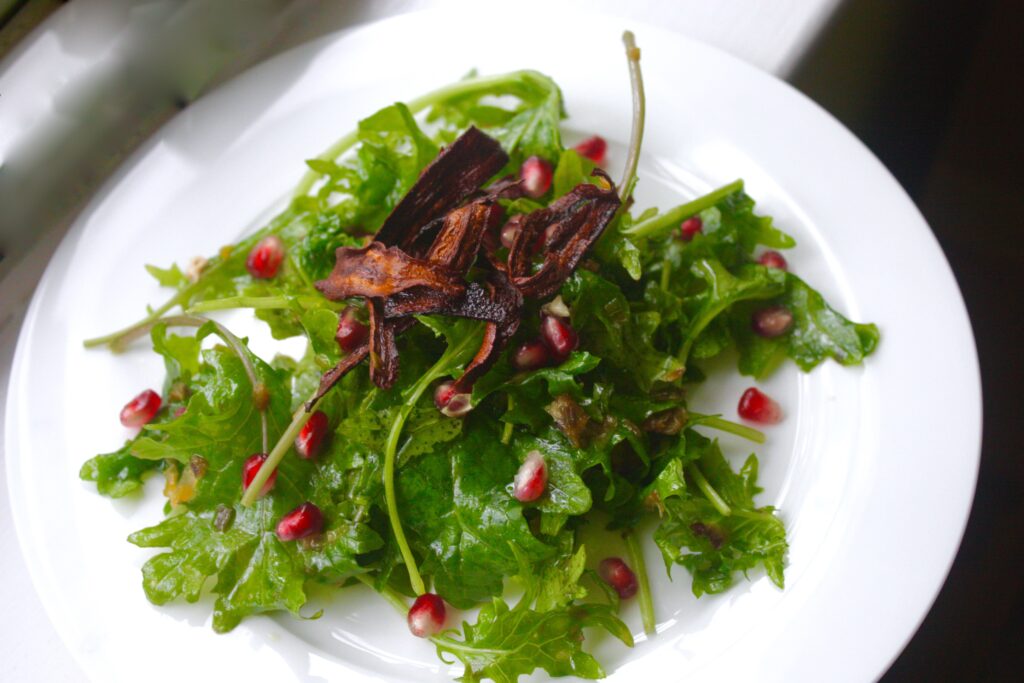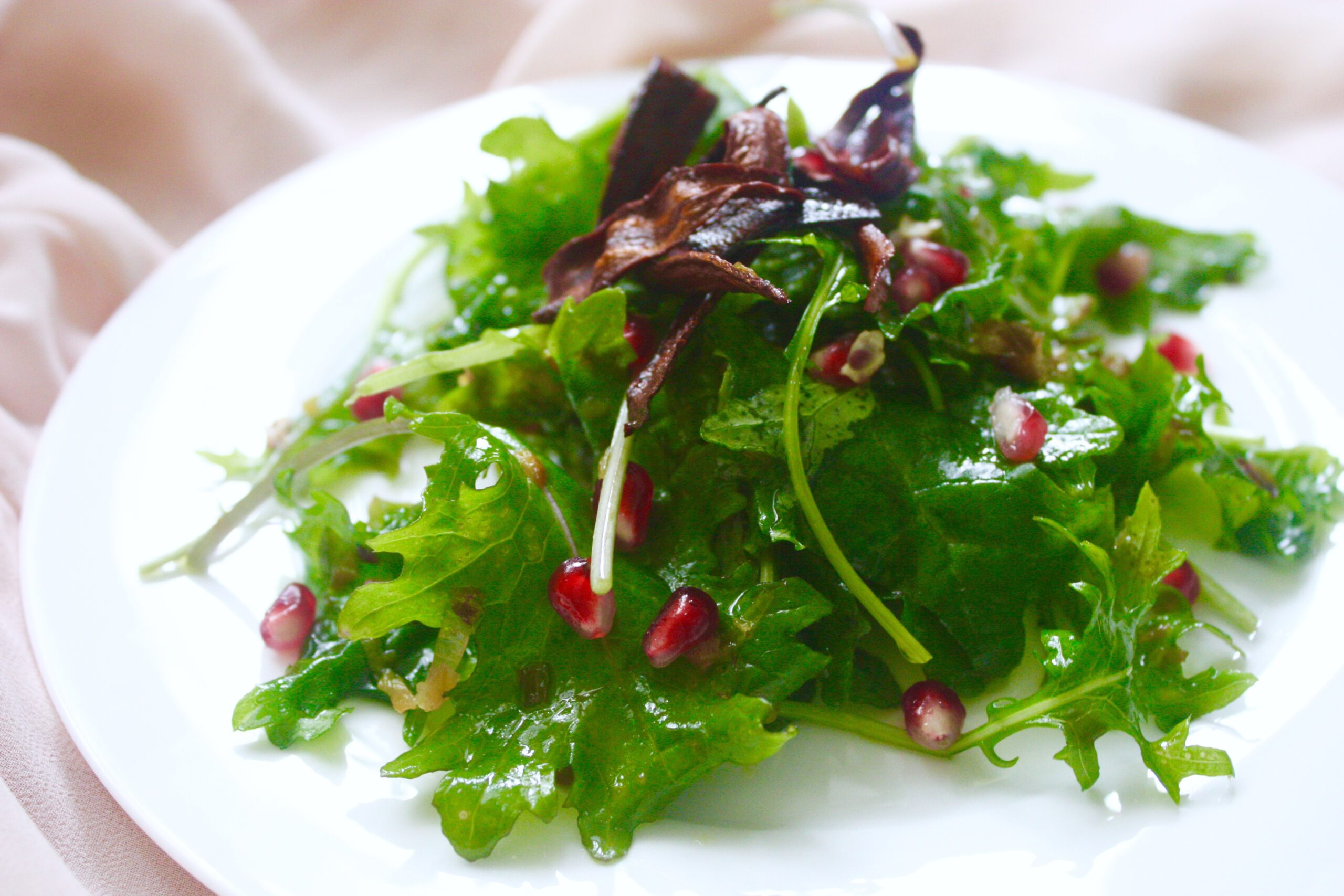 Print Recipe
Kale Salad with Caramelized Leek Vinaigrette and Carrot
Sweet, caramelized leeks are the secret to this well-balanced vinaigrette, bringing depth and richness to the whole dish. Topped with crunchy pomegranate seeds and carrot bacon crisps that are both sweet and savory, this salad makes for a light and fresh starter to any meal.
Ingredients
For the vinaigrette:
2 leeks, cleaned and sliced into half-moons, excluding dark green tops
1/4 c+ 2 tbsp olive oil
1 tsp salt, divided
juice of 1/2 a medium lemon
1 tsp maple syrup
For the Carrot Bacon:
6 medium carrots, peeled
2 tbsp tamari
1 tsp liquid smoke
1/2 tsp maple syrup
1/2 tbsp unrefined coconut oil
1/2 c fresh pomegranate seeds
1 large bunch of kale, stemmed and chopped (a package of baby kale works too)
Instructions
1

Start by preparing the carrot bacon.

2

Mix the tamari, liquid smoke, and maple syrup in a medium-sized bowl.

3

Add the shaved carrots, then coat with the tamari mixture.

4

If you have a dehydrator, let sit in the tamari mixture for about an hour, tossing every so often so the marinade soaks up evenly. Dehydrate according to your manufacturers instructions until crisp.

5

If using your oven, preheat to 250F.

6

Coat a baking sheet with the coconut oil, then spread the carrot ribbons evenly across the sheet. Make sure the ribbons are separated and have plenty of space to dehydrate.

7

Drizzle the excess marinade over the carrots.

8

Bake in the oven for about an hour, until the carrot ribbons are crisp and dry. Make sure they do not burn.

9

If the carrots are browning too quickly, you can lower the oven temperature even more.

10

Now, start the vinaigrette.

11

In a large pan over medium heat, add the two tablespoons of olive oil, then the cleaned leeks.

12

Sprinkle 1/2 a teaspoon of salt over the leeks, and stir to distribute.

13

Cook on a medium to low heat for about an hour until the leeks are a deep caramel color. They should be very sweet.

14

Add the reserved 1/4 cup of olive to the pan, then gently warm with the caramelized leeks for 2-3 minutes. This helps the leek flavor to infuse the oil.

15

Pour the leek oil into a measuring cup, then add the remaining dressing ingredients.

17

Place the kale into a large bowl.

18

If you are using mature kale, dress the salad slightly in advance, taking care to massage the dressing into the leaves, so they are well coated, and have softened.

19

To serve, top with the pomegranate seeds and carrot bacon.